New Law College Library
Library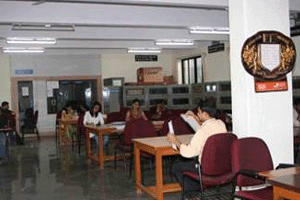 NLC is equipped with one of the best libraries with a collection of both Indian and foreign books. Students use it not only for curricular references, but also for all indepth research and co-curricular activities. It gives access to an exclusive, latest and rich collection of primary and secondary resources to all the users in the college.
The library is well stocked and computerized, with an extensive collection of Textbooks, Reference Material, Law Reports and Journals/Periodicals. To name few, All England Law Reports, United States Supreme Court Report (136 Volume), Corpus Juris Secundum, Halsbury Law Journals (150 Volume).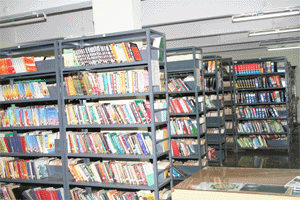 The process of learning is all about researching new facts, methods and approaches to understanding the working of the world which is in a constant state of flux. The state of the art computer centre is backed up by an IBM net finity server with a leased line internet connection and UPS power back up. The computer centre is well equipped with more than 100 computers allowing mobile accessibility
During the last four years, the college has added the Text Books Reference Material, Law Reports & Journals, which costed more than Rs.1.7 Crores. The New Law College library perhaps is the only library in Pune having the collection of the All England Law Reports, United States Supreme Court Report (136 Volumes) and Corpus Juris Secundum Halsbury Law England (150 Volumes), which is an invaluable tool for the law research along with the latest addition of Manupatra, LexisNexis and Westlaw.
Features of NLC Library
Library worth more than Rs.1 Crore having
Library services
Reading Room facilities.
Reference.
Circulation.
Inter Library loan
New arrival list
OPAC
Online search.
Internet-(cyber cell)
Follows open access system.
Book Bank service.
Some figures
Total No. of Books in library: 33890
Total No. of bound Volumes reports & Journal Accession: 3598
No. of Journal Subscribed: Presently: 59(39 National, 20 International)
CD-ROM Databases: 2 (AIR, Grand Jurix,SSC )
Online Database: 7 (Manupatra, West Law, SCC Online, Taxman,Hein Online,CLA Online)
E-Books :31,00,000 +
E-journals :6,000 +
Some figures
The complete AIR Supreme Court on CD-ROM
High Courts on CD-Rom (AIR Nagpur)
Grand Juris
Direct Taxes (SC and HC Judgements )
Supreme Court Case Law
Sales tax Cases (SC and HC Judgements)
Criminal Law(SC and HC Judgements)
Arbitration and conciliation
Labour Law(SC and HC Judgements)
Subcription to Legal Internet Database
Manupatra
West Law
SCC Online
CLA Online
Taxmann Online
Delnet
Hein Online
Other Features
Corpus Juris Secundum (101 volumes)
States Supreme court reports 126 Volumes
Moores Indian Appeals
The Law Reports Indian appeals: being cases in the privy council
Inflibnet -N-List
Delnet Library service
Halsbury's Laws of England
Library Linkages
British Council Library, Pune
Confederation of Indian Industries (CII)
Indian Merchants Chamber (IMC)
Erandawane Campus Libraries